Investment Approach
We strive to partner with distinguished entrepreneurs operating in high-growth and high-ROIC sectors with relevant strategic value.
Approach
We target industries positioned to benefit from long-term drivers (income, aging, health/wellness, and convenience) and companies with a clear potential to extract synergies by executing M&As (by leveraging brand, distribution, and/or reducing SG&A). This focus enables our investments to have health organic/inorganic growth paths as well as potential to exit at a premium valuation to strategic players.
Additionally, by having clear-cut targeted industries, we can develop a thorough understanding about each of them and have a value-added approach with entrepreneurs since the first interaction, creating a differentiated angle when proposing a partnership.
Finally, our focus on middle market allows us to combine (i) vast amount of high-growth / profitable companies with (ii) proven business models with a low mortality rate and (iii) a shift from price-based negotiation to a value-added/collaborative approach when partnering with entrepreneus.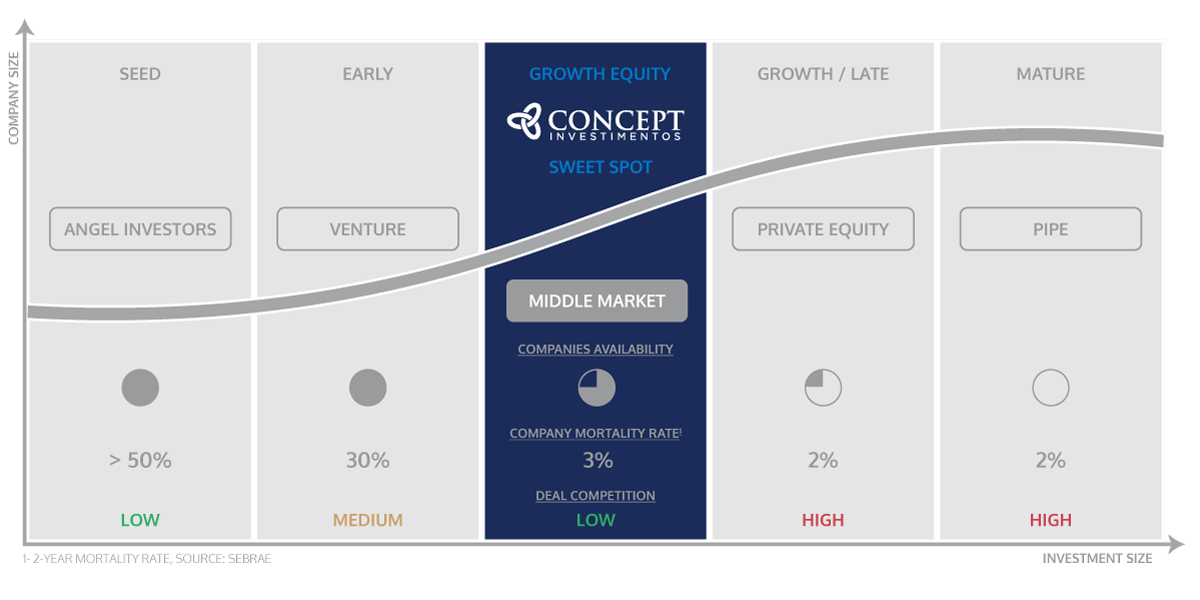 Criteria
Combination of top-down, long term drivers – Income, aging, health/wellness, and convenience – with Concept's team track record.
Branded foods & ingredients
Human health
Animal health
Cosmetics
Business services
R$ 8+ million in EBITDA
Potential to unlock value by upgrading management, improving capital structure, accelerating organic expansion, and empowering consolidation
Clear exit to strategic players at a premium valuation
Passionate entrepreneurs with significant market knowledge
Entrepreneur values Concepts's role
Growth equity
Consolidation
Management/owner buyout
Sponsor-to-sponsor
R$ 30+ million in equity investment
Shared control and governance
Entrepreneur is significant owner and has meaningful investment
Potential to 4x – 5x MOIC
Exogenous, binary, and regulatory risk
Greenfield, distressed assets or start-ups
Excessive governmental exposure